After all these years!
From Fine Paper Co. to InviteSite to 3 Muse Press
In, 1999 when we were still running Fine Paper Company in Old Town Pasadena, we were eager to get ourselves on the internet. We felt our store name was long and perhaps old fashioned sounding, so we hopped on the ride called the Internet Bubble with the very easy-to-recall and Internet Bubbly-sounding name of InviteSite.
On Christmas vacation that year we bought our first version of Dreamweaver and set about learning it. We also bought the most expensive 2 megapixel camera money (too embarrassing to say what we spent on that) could buy and at the end of vacation had a first page and a good amount of product pages showing what we had to offer with the very best 2 megapixel pictures anywhere on the web. The name InviteSite has served us well and our designs and customer service are famous. We've won the Bride's Choice Award three years in a row now, among other awards and accolades.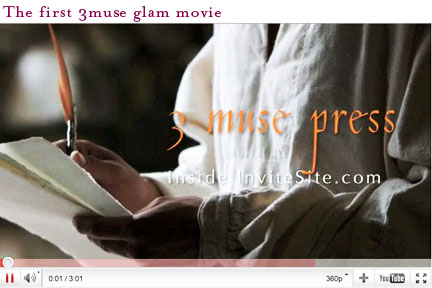 Others have tried to duplicate our look using digital printing and their own flimsy paper (one customer told us the samples they got from other makers felt like coupons), but after all these years we remain unique in what we do and how we do it. The three of us; Helen, Scott, and Cindy, see each other as muses, inspiring one another in our respective roles here. We're all multi-taskers, but mainly Helen is the designer, Cindy is Customer Service and Showroom Designer, and Scott is the Typesetter and Letterpress Operator and Repairman.
What is in a name? "InviteSite" made us easy to find in those days, but the name, clever as it was during the Bubble, is a concession to the box we felt programmers had made for us. We want to be ourselves, the three muses.
This is the beginning of 3 Muse Press. For quite a while, our new name will begin showing up as a subtitle to InviteSite, with the intent that eventually InviteSite will be underneath this wonderful name. A name that makes us happy as we continue to offer happiness to our special couples as we always have.
Questions? Don't hesitate to contact us with any questions regarding this Anniversary offer.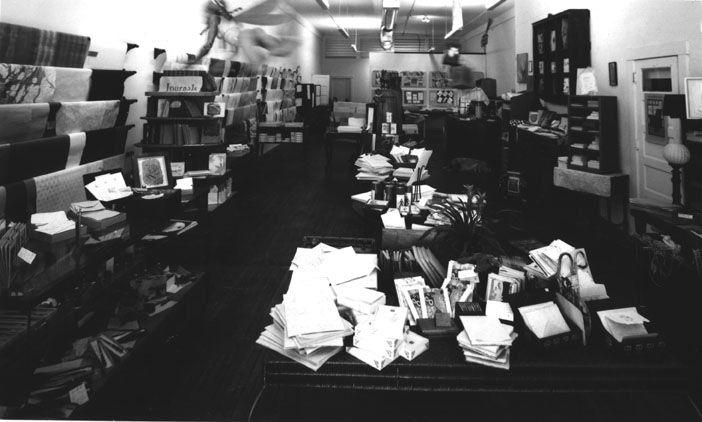 Interior of InviteSite's first incarnation, as Fine Paper Company, in 1995. InviteSite.com operated from this 3000 sq ft space in Old Town Pasadena, for it's first 2 years.
Begin browsing InviteSite's: