Offset Printing at Invitesite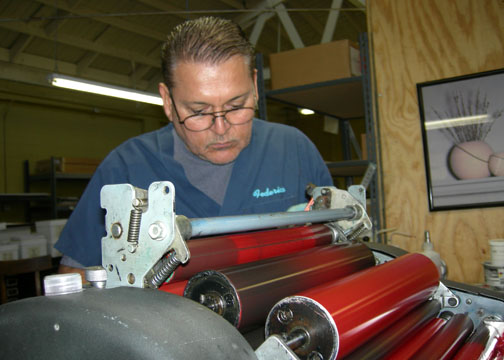 Invitesite offers in-house typesetting and printing. We have more than 20 years of experience as letterpress printers and offset printers. Invitesite's designs are intentionally created for desktop printing. Some papers CANNOT be printed by most offset print shops. Because we use unusual papers, handmade papers and papers with special surfaces, we do suggest you have us print for you, if you do not want to print the invitations yourself, laser or inkjet.
Want us to print for you? Invitesite has a great selection of fonts and ornaments. You can play with your wedding invitation wording and type design with this handy Invitation Wording Design Tool. A professional graphic designer will be creating your final design. This tool will help you visualize and select the fonts and ornaments you like best.
Online Orders
After placing your order online, you will get an email receipt with a link to our convenient Typesetting and Printing Order Form.
Our designer will be typesetting for you, and he will email you a pdf proof for your approval. You are allowed 3 proofs with changes (other than correcting our error) without incurring additional charges.
After your approval, your invitations will go to print in 1 - 3 days. Some papers (shiny) require a day to dry. Your printed pieces are then packed with the rest of the invitation papers and supplies, and shipped off to you. Offset printing is less expensive than letterpress and our offset printing is quite good.
626-864-0364