The history below is taken from a book by Kevin Starr (with permission) called Inventing the Dream, which is a very fine and important history.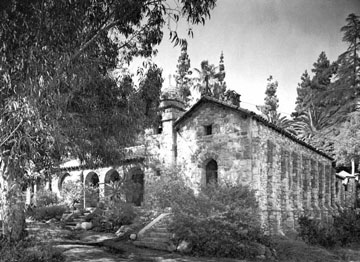 For the printer Clyde Browne, Arroyo Culture signified something a little more recherche. Architectural scholarship and neo-Franciscan fantasy pervade the Abbey San Encino that Clyde Browne built for himself near Lummis's El Alisal on the Arroyo. Like Lummis at El Alisal, Clyde Browne had the Abbey San Encino constructed from dressed boulders taken from the Arroyo itself. In the Abbey's great hall Browne built a marvelous pipe organ, on which he played for his guests. A stained glass window depicted a Franciscan printer working a handpress with the help of an Indian boy, which was historically untrue (no Franciscan in California ever ran a printing press), but suggestive nevertheless of Browne's conception of himself as a master printer in the early Renaissance tradition of Aldus Manutius: a craftsman-patron of learning, religion, and the arts. Wanting San Encino to develop into a lay monastery of creative artisans, Browne had a series of workshops and studios built near the abbey. There he hoped to gather the best printers, bookbinders, and graphic artists of his day, all of the living and working together under the benevolent sponsorship of Abbot Clyde Browne.
The tile fireplace of Abbey San Encino was designed by another prominent Arroyon, the tile maker Ernest Batchelder, onetime director of art at the Throop Polytechnic Institute, now the owner of a Pasadena kiln where he designed and produced a breathtakingly lovely series of ceramic tiles used in home decoration. Whenever possible, Batchelder employed Southern Californian motifs on his creations (an art nouveau swirl of vines, flowers, oak trees) and bright Southern Californian colors (brown, blue, apricot, yellow). Trained in England at various Arts and Crafts centers and the author of two published treatises on design, Ernest Batchelder ensconced himself in a lovely Swiss-style chalet perched over the Arroyo, where he embodied both the theory and the practice of Arroyo Culture.
(Clyde Browne, by the way, is the grandfather of local singer/songwriter Severin Browne.)