Questions? Call Us! 626-864-0364
Straw Bale
Rustic and Textured Eco DIY Wedding Invitation Kit. Fab for a sophisticated casual wedding. Real strands of Abaca artfully strewn through a mulberry fiber base. 100% PCW recycled card and envelope. Matching envelope liner. Ties with length of natural paper raffia. One decked edge on wrapper gives a sophisticated finish. DIY Assembly level: Easy assembly.
Minimum order: 50
50+ $2.25 each
100+ $2.15 each
200+ $2.00 each
300+ $1.95 each


Details
Natural paper landscape invitation wrapped in a Hay Stack abaca fibers and mulberry paper wrapper with one deckled edge. You print or we print on the Milkweed 100% PCW recycled cardstock. Smashingly handsome paper. RSVP enclosures and map neatly tuck inside. Closes with a natural paper raffia tie.
Overall Size: 5-1/2" x 7-1/2" (A7 standard mailing envelope size)
inished invitation measures 5 x 7 inches
Envelope: Milkweed 100% post consumer 70 lb. A7 envelope (very handsome) with matching haysack paper envelope liner (assembly required).
Colors: Tan, Brown, Honey beige,
Printing
Desktop printer: Laser, Color Laser, Inkjet. (we supply MS Word templates) Or let us do it for you.
Commercial Printing: Offset, thermography, letterpress.
Included in Set
Invitation Card:Honey soft white heavy 100% PCW recycled Milkweed Paper
Wrapper:Treefree abaca fiber and mulberry textured paper in Haystack pattern
Tie :Natural mulberry paper raffia.
Score + Diecut:Invitation Wrapper has the holes at side diecut, and folds scored into paper.
Envelope:Matching 100% post consumer recycled Milkwweed A7 envelope.
Envelope Liner:Matching Haystack Abaca paper cut to fit.
Template:MS Word Templates for all printing parts
Tools:glue sticks for gluing envelope liners
Extra paper:10% extra printing sheets and envelopes for printing errors
Green Wedding Worthy:Yes. Treefree post harvest fiber wrapper and 100% post consumer recycled invite card and envelope
10% extra printing sheets and envelopes for printing errors
Assembled reference sample

Email this page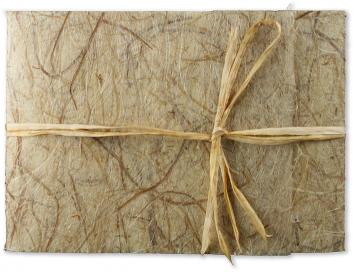 Click on thumbnails for additional views