Questions? Call Us! 626-864-0364
Aislinn
LIMITED EDITION - when this design sells out, it is no longer available. CURRENT TAMARIND PAPER HAS GREEN leaves+ GREEN grass bits on IVORY WHITE Background. DIY Booklet ECO Wedding Invitation made from ivory mulberry paper with DARK SAGE GREEN tamarind leaves and bits of grass embedded in the paper. Tree free with real leaves. Booklet is diecut and scored, with a handsome pocket for rsvp set or enclosures. Bound with natural paper raffia. Booklet style invitation sheet of 100% cotton paper. Style is perfect for 2 language wedding invitations. Assembly: Fairly easy.
Minimum order: 50
50+ $2.00 each


Details
Modern landscape design belies that this is one of our budget designs. This is an eco friendly design. Both booklet and invite sheet are treefree. Tamarind leaves are gathered during the tamarind harvesting process. The pulp is removed, leaving the beautiful skeleton of the leaves. These fragile leaves are dyed, dried, then embedded in a random design in the mulberry fiber paper. Beautiful!!! Mailing envelope is handsome softwhite envelope (not shown. PAPER FACTS: Wrapper paper is made in Thailand from mulberry fiber, bamboo fiber and real tamarind leaves with bits of grass. Interior paper is recycled Crane cotton paper (made in USA). Envelopes are made in the US from 50% postconsumer recycled paper. DIY Assembly: What you do: Glue down pocket fold, fold invite sheet and insert. Tie Raffia.
Overall Size:5x7 inches ( standard mailing envelope size)
Open invitation measures 14 x 5 inches. Printing sheet measures 4.5 x 13 inches.
Envelope:Softwhite 50% postconsumer recycled paper envelope.
Colors: DARK SAGE GREEN, softwhite and natural raffia
Printing
Desktop printer: Laser, Color Laser, Inkjet. (we supply MS Word templates) Or let us do it for you.
Commercial Printing: Offset, thermography, letterpress.
Included in Set
Invitation Sheet: Softwhite cotton treefree paper. Prints laser or inkjet.
Wrapper: Mulberry and tamarind paper booklet - diecut and scored with pocket.
Envelope: 50% post consumer recycled paper A7 standard size.
Tie: Half yard of natural mulberry paper raffia.
Tools: MS Word templates. Awl and gluestick
Extra paper: 10% extra printing sheets and envelopes for printing errors
Instructions: Printed instructions.
Sample: Assembled reference sample

Email this page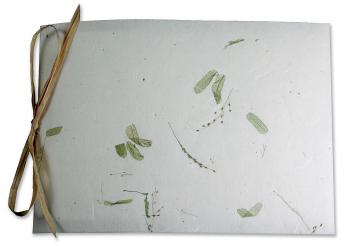 Click on thumbnails for additional views