Questions? Call Us! 626-864-0364
Algonquin
Elegant DIY Gatefold Invitation made from embossed handmade paper in deep bronze. All the papers have a subtle sheen. Champagne pearlescent invitation card, all mails in a tall elegant matching champagne pearlescent envelope. Wedding Invitations closes with French blue double-face satin ribbon. Other ribbon choices. DIY Assembly: Easy. What you do: Fold wrapper, tie ribbon.
Minimum order: 25
25+ $3.50 each
50+ $3.00 each
100+ $2.90 each
200+ $2.75 each
300+ $2.50 each


Details
Pearlescent handmade (cotton-rag) paper wrapper, deeply embossed in a gardenia floral design. Beautiful and rich - the color of ant deco bronze statuary from the 1920's. Very easy assembly. PAPER FACTS: Wrapper is made from 100% recycled cotton rag by hand, in India. Paper and envelopes are made from FSC certified paper, made without metal or foils, is recyclable, biodegradable, elemental chlorine free.
Overall Size: 10 x5 inches
Finished invitation measures 9 1/2 x 4 3/4 inches.
Enclosure cards and rsvp set tuck behind the invitation card, secured by the threaded ribbon. (See inside views). This is a really opulent invitation and perfect for a formal wedding.
Printing
Desktop printer: Laser, Color Laser, Inkjet. (we supply MS Word templates) Or let us do it for you.
Commercial Printing: Offset, thermography, letterpress.
Included in Set
Invitation Card: Champagne pearlescent Italian cardstock
Wrapper: Handmade cotton rag paper with pearlescent finish and deep embossed gardenia pattern. O Scored and die-cut.
Envelope: Custom shaped tall pearlescent envelope with deep 4 inch flap.
Tie: One and a half inch double faced satin ribbon.
Tools: MS word templates.
Extra paper:Instructions with diagrams
Completed reference sample
10% extra printing sheets and envelopes for printing errors

Email this page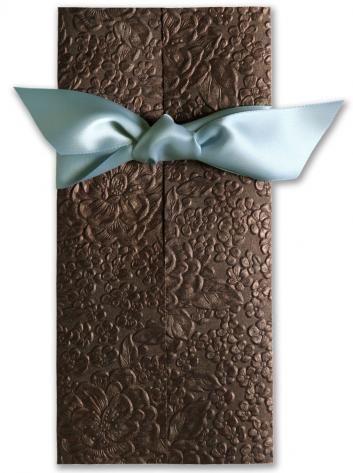 Click on thumbnails for additional views