Questions? Call Us! 626-864-0364
Angelicia
Rustic and So Very Green. DIY Mulberry Unryu wrapped Natural Invitation - closes with REAL japanese maple leaf. Envelope lined with burgundy mulberry paper. All tree-free and 100% post consumer recycled papers. Perfect Eco Invitation for a rustic wedding. DIY Level: Very easy assembly. What you do: Fold wrapper, glue maple leaf, insert and glue envelope liner.
Minimum order: 50
50+ $2.75 each
100+ $2.50 each
200+ $2.25 each
300+ $2.00 each
500+ $1.75 each


Details
Square card of recycled husk-colored paper with a creamy natural wrapper of mulberry unryu. Closes with a reddish- burgundy pressed Japanese maple leaf. Invitation slips into matching husk envelope, lined with burgundy mulberry paper. (you glue in the liner) PAPER FACTS: Wrapper is made from mulberry fiber in Thailand. Envelope liners are also made from Thai mulberry. Invitation sheet and envelopes are made from 100% postconsumer recycled paper, made in the USA and/or Canada. Maple leaves are dried in California.
Overall Size: 6.5"x 6.5" (non-standard mailing envelope. Requires extra postage.)
Finished invitation measures 6.25" x 6.25"
Invitation made entirely from tree free paper and 100% post consumer recycled paper
IF YOU CHOOSE RSVP SET: husk cardstock rsvp w/ husk A2 envelope. Matching envelope liner (you glue in) made from Thai mulberry paper
Printing
Desktop printer: Laser, Color Laser, Inkjet. (we supply MS Word templates) Or let us do it for you.
Commercial Printing: Offset, thermography, letterpress.
Included in Set
Envelope: Husk recycled paper 6.5
Wrapper: Cream colored mulberry paper cut to size
Invite card: Matching husk postconsumer recycled cardstock. Heavyweight, 105 lb. paper
Pressed Leaf: Real Japanese maple leaf
Tools: Gluesticks, MSWord templates
Extra paper: 10% extra printing sheets and envelopes for printing errors
Sample: Complete reference sample
Instructions: Printed instruction sheet

Email this page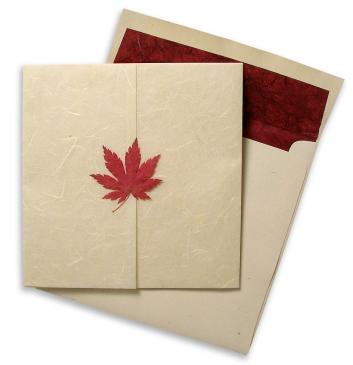 Click on thumbnails for additional views