Questions? Call Us! 626-864-0364
Anglesey
~MAJESTIC MONOGRAM LETTERPRESS Wedding Invitations~ PRICE INCLUDES 1 COLOR LETTERPRESS PRINTING ON INVITE CARD. Envelopes printed offset, rsvp set and enclosure cards printed offset. NOT AVAILABLE AS DIY (too thick to DIY print). Classic and Stately. This design is inspired by the invitations and menus we created for the Duke and Duchess of Cambridge BAFTA Brits to Watch event in Los Angeles this year. WE BUILT LETTERPRESS + CUSTOM MONOGRAM DESIGN INTO THE PRICE. PLEASE CLICK ON "WE PRINT QUOTE" button below. CHECK ITEM BOXES FOR EXACT QUANTITY QUOTE!! Tall: measures 9.75 inches x 4.75 inches. WE WILL DESIGN A CUSTOM MONOGRAM FOR YOU! DIY duties: Mount invite card to the backing card with self-adhesive photocorners.
Minimum order: 50
50+ $4.50 each
100+ $3.40 each
150+ $3.10 each
200+ $3.00 each
250+ $2.85 each
300+ $2.50 each


Details
Thick, luxurious ecru 100% cotton 220 lb. Lettra paper by Crane mounted on Antique Gold Italian pearlescent paper. Includes gold photocorners for mounting. RSVP set mounts on the back of the Invite card - using gold photocorners. Gorgeous mix of matte paper and pearlescent papers and envelopes.
Letterpress bites into the thick cotton paper: very strong impression
Click on WE PRINT QUOTE button for exact quote.
Don't forget to check items on the WE PRINT quote page
Prices include the design, plates and letterpress printing
Tall custom Italian paper envelope in pearlescent champagne
TEXTURES: MATTE + PEARLESCENT
COLORS: Ecru, Antique Gold, Champagne
INK COLORS: Deep black, Eggplant, Charcoal Grey, Chocolate Brown, Matte Antique Gold
Printing
Desktop printer: Laser, Color Laser, Inkjet. (we supply MS Word templates) Or let us do it for you.
Commercial Printing: Offset, thermography, letterpress.
Included in Set
Invitation Card: 220 pound Lettra 100% cotton Ecru Cardstock. Measures 4.5 inches x 9.5 inches
Mounting Card: 110 pound Antique Gold Italian Cardstock, measures 9.75 inches x 4.75 inches
Photo Corners: Self adhesive Antique Gold Photo Corners - Vintage Design
Mailing Envelope:Tall Elegant Custom Envelope with Long Flap at Top. Made from 70 pound Italian Champagne Pearlescent Paper. Measures 10 inches x 5 inches.
Letterpress Printing: One Color Letterpress Printing on Invitation Card

Email this page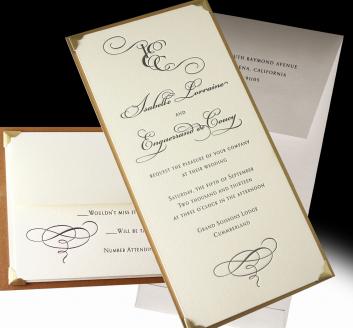 Click on thumbnails for additional views