Questions? Call Us! 626-864-0364
Beatrice
Do It Yourself (DIY) Square Invitation of pumpkin-colored handmade lokta paper from Nepal. Medium Assembly.
Minimum order: 50
50+ $3.00 each
100+ $2.95 each
200+ $2.75 each
300+ $2.50 each
500+ $2.25 each


Details
Elegant pumpkin-colored booklet of beautiful handmade lokta paper. Bound with waxed linen thread. Very natural yet sophisticated. Invitation is book style - with two facing pages (like a book). Cover has an inside pocket for enclosures. Closes with a real skeleton rubber plant leaf. Booklet is entirely tree free. 100% post consumer recycled paper envelope. Colors are natural tan and pumpkin. PAPER FACTS: Wrapper, Invitation sheet and rsvp card is made from handmade lokta paper (Daphne Bholua and d. papyrecea, a renewable bush that grows in the foothills of Nepal. Lokta paper is archival to at least 700 years). Envelopes are made from 100% postconsumer recycled paper, made in the US and/or Canada.
Overall Size: 6-1/2x6-1/2 inches (non-standard mailing envelope. Requires extra postage.)
Finished invitation measures 6-1/8x6-1/8 inches
Invitation Sheet: Natural lokta printing sheet. Prints inkjet or laser beautifully.
Outer envelope: Husk opaque recycled paper with envelope liner made from mango leaves and pumpkin-colored mulberry paper (you glue in the liner).
Printing
Desktop printer: Laser, Color Laser, Inkjet. (we supply MS Word templates) Or let us do it for you.
Commercial Printing: Offset, thermography, letterpress.
Included in Set
Invitation Sheet:Handmade natural lokta sheet - measures 5-3/4"x 11-1/2" (two facing pages for copy).
Wrapper:Handmade lokta paper with one natural deckled edge. We score fold-marks into the wrapper for easy assembly.
Envelope:Husk 70 lb square envelope - 100% post consumer recycled. Very handsome.
Binding Thread:Three-ply waxed linen thread. Professional bookbinding thread - waxed with bee's wax.
Skeleton Leaf:Rubber Leaf - natural.
Envelope Liner:Mango leaves and pumpkin colored mulberry tissue - cut to size.
Tools:Bone folder, glue sticks, bookbinding awl (for poking holes).
An extra 10% of the cardstock and envelopes are included for printing overage.
Microsoft Word templates if you are printing your own.
Assembled reference sample

Email this page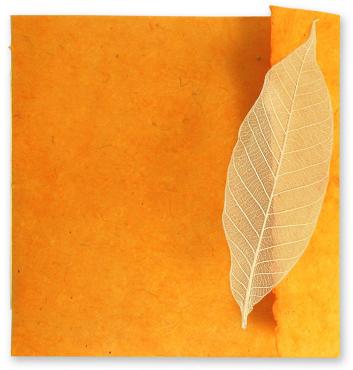 Click on thumbnails for additional views