Questions? Call Us! 626-864-0364
Casbah
SOLD OUT! Discontinued. Festive and Fun Loving -- our Casbah eco + budget wedding invitations celebrate both the environment and the pocketbook. A double paper bellyband and gold ribbon dress this all cotton, all eco luxury wedding card in bright orange handmade paper and red sugarcane paper. Crane lettra cardstock (100% cotton, used on all the fancy letterpress invites). LARGE FORMAT: A8 size. Your guests will be sure you spent a fortune! Bright and sassy and fashionably frugal. Saving so much that you're thinking of having us print for you? We can print your invites in chocolate brown, eggplant purple, charcoal grey, deep burgundy. High on the Wow factor.
Minimum order: 100
100+ $1.50 each


Details
DIY Wrapped Invitation with double bellyband of beautiful purple treefree mulberry paper. The invitation and envelope are made in the US. This design works very well with modern wedding graphics, offering a very large canvas measuring 7 3/4 inches by 5 1/2 inches wide. (A8 size) ECO PAPER FACTS: 100% cotton cards, sugarcane red paper, and cotton handmade orange belly bands. Envelopes are 100% recycled, with 50% PCW.
Overall Size: 5-1/2 x 8 inches.
Finished invitation measures 5 1/4 x 7 3/4 inches
Elegant bellyband.
Handsome A8 softwhite envelope
Colors: Softwhite, deep red and bright orange.
Printing
Desktop printer: Laser, Color Laser, Inkjet. (we supply MS Word templates) Or let us do it for you.
Commercial Printing: Offset, thermography, letterpress.
Included in Set
Invitation Card: Beautiful Crane Lettra Softwhite Cardstock
Mailing Envelope: A8 softwhite 80 lb envelope
Bellyband: Thai sugarcane paper - 4 inches x 12 inches
Top Bellyband: 100% cotton handmade and embossed paper
Ribbon: Half yard of 1/2 inch gold organza with satin edges
Gluestick: For gluing bellyband and envelope liner.
Extra Paper: 10% extra printing paper and envelopes for printing errors.
Templates: MSWord templates for all the printable parts
Instructions
Assembled reference sample

Email this page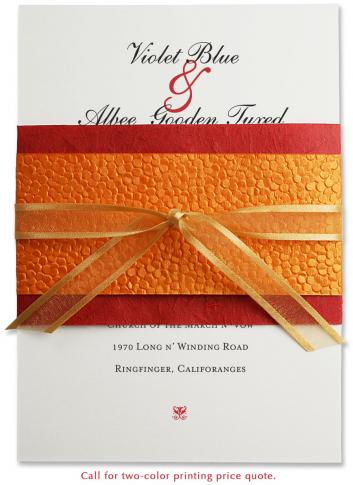 Click on thumbnails for additional views