Questions? Call Us! 626-864-0364
Catherine
COMPLETELY SOLD OUT!! Thank you :) Rustic and Elegant Wedding or Rehearsal Invitation.
Minimum order: 50
50+ $2.50 each
100+ $2.25 each
200+ $2.00 each


Details
DIY Square Invitation with ocean blue English vellum envelope and pressed Forget-Me-Not flower.
Overall Size: 6-1/2"x 6-1/2"
Finished invitation measures 6-1/4" x 6-1/4"
Square husk card (100% postconsumer recycled cardstock) with a real pressed Forget-me-not flower
Mulberry Tissue overlay in pale cream yellow.
Printing
Desktop printer: Laser, Color Laser, Inkjet. (we supply MS Word templates) Or let us do it for you.
Commercial Printing: Offset, thermography, letterpress.
Included in Set
Mailing envelope:Ocean blue English translucent vellum 6.5 inch envelope.
Eco- alternate envelope:Husk opaque postconsumer recycled - with cream mulberry tissue liner.
Printing:Desktop printer: Laser, Color Laser, Inkjet.
Overlay:Medium to easy.
Extra paper: 10% extra printing sheets and envelopes for printing errors
Tools: Glue and brush (for flower), MS word templates
Instructions

Email this page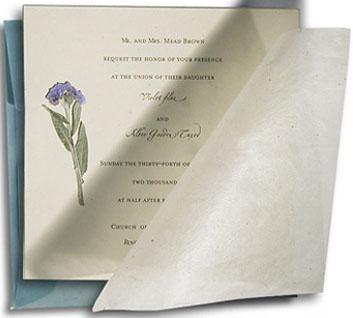 Click on thumbnails for additional views