Questions? Call Us! 626-864-0364
Celedon
Sophisticated and Elegant Wedding Invitation. DIY Invitation with Celedon flocked mulberry wrapper and lush ribbon. Easy assembly.
Minimum order: 50
50+ $3.00 each
100+ $2.95 each
200+ $2.75 each
300+ $2.50 each
500+ $2.25 each


Details
Elegant invitation wrapped in a textured, flocked celedon (gray-green) mulberry-paper wrapper. Flocking in a graceful, willow branch pattern. Wrapper is die-cut (ribbon slots) and scored for easy assembly and professional finish. Invitation card is printed on heavy champagne pearlescent Italian paper. Matching champagne pearlescent mailing envelope. Closes with a 1-1/2 inch textured ribbon. PAPER FACTS: Wrapper is treefree made from mulberry fiber with rubber based flocking. Paper is made in Thailand. Invitation sheet paper and envelopes are made from FSC certified paper, made without metal or foils, is recyclable, biodegradable, elemental chlorine free. This paper is made in Italy.
Overall Size: 6x8 inches
Finished invitation measures 5-1/2x 7 3/4 inches
Envelope: Italian champagne colored, 70 lb. A8 envelope. Pearlescent finish (very elegant).
Printing
Desktop printer: Laser, Color Laser, Inkjet. (we supply MS Word templates) Or let us do it for you.
Commercial Printing: Offset, thermography, letterpress.
Included in Set
Invitation Card:Heavy Italian pearlescent cardstock (105 lbs).
Wrapper:Medium weight flocked mulberry paper with flocked willow-branch pattern. We die-cut slots for the ribbon and score fold-marks into the wrapper for easy assembly.
Envelope:Matching Italian opalescent 70 lbs. A8 size (6x8) envelope.
Ribbon:One and one half inch, textured ribbon. We allocate enough ribbon to tie a bow or a knot.
An extra 10% of the cardstock and envelopes are included for printing overage.
Microsoft Word templates if you are printing your own.
Instructions

Email this page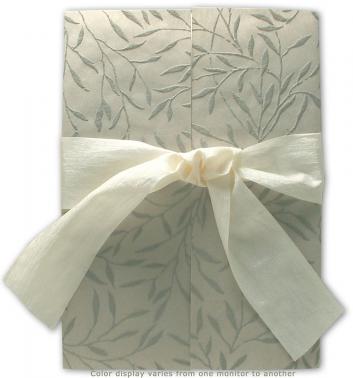 Click on thumbnails for additional views