Questions? Call Us! 626-864-0364
Celeste
A Rich and Sophisticated Portfolio Invitation Navy Blue, White and Silver, made from luxurious Italian pearlescent papers.
Minimum order: 50
50+ $2.75 each
100+ $2.50 each
200+ $2.25 each
300+ $2.00 each


Details
Portfolio Invitation with mounted invitation and rsvp set. You can use this invitation for a two language wedding by mounting two invitation cards opposite each other, and stacking the rsvp set at the back of the invitation. Extra 25 cents. Please call us to order, if you want this option. PAPER FACTS: Paper and envelopes are made from FSC certified paper, made without metal or foils, is recyclable, biodegradable, elemental chlorine free. Paper is made in Italy.
A modern and sophisticated portfolio invitation that opens to a wide landscape of 16" x 5". Invitation card and rsvp set are mounted inside, using white photo-corners.
Overall Size: 8-1/16"x 5-1/2" (A8 outer envelope size) Double envelope
Finished invitation measures 5" x 7"
Colors: Navy blue, crisp white, silver-blue ribbon and silver photocorners.
Printing
Desktop printer: Laser, Color Laser, Inkjet. (we supply MS Word templates) Or let us do it for you.
Commercial Printing: Offset, thermography, letterpress.
Included in Set
Portfolio:Die-cut and scored portfolio wrapper made from deep navy blue pearlescent cardstock from Italy. Measures 16"x 5" open and folds to 5"x7".
Invitation Card:Crisp white pearlescent Italian cardstock with cool overtones
Mailing Envelope:Matching white A7 pearlescent envelope.
Extra paper: 10% extra printing sheets and envelopes for printing errors
Photocorners:8 silver photocorners per invitation set.
Ribbon:One yard of silver-blue textured ribbon per invitation.
MS Word printing templates if you plan to print this yourself.
Instructions

Email this page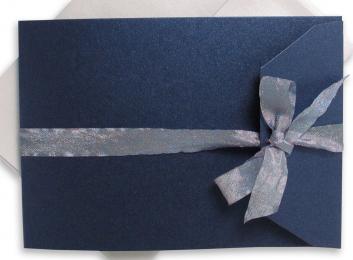 Click on thumbnails for additional views