Questions? Call Us! 626-864-0364
Cerise
Colorful yet Rustic Starfold Wedding Invitation for a Green, Harvest or Fall Event. DIY Square Invitation with orange sugarcane paper star-fold wrapper. Very Rustic.
Minimum order: 50
50+ $3.00 each
100+ $2.90 each
200+ $2.75 each
300+ $2.50 each
500+ $2.25 each


Details
Treefree sugarcane starfold wrapper, diecut ribbon holes, scored fold marks and deckled edges. 100% post consumer recycled paper heavy weight invitation card. Chocolate brown envelope liners. PAPER FACTS: Wrapper is made from bagasse fiber (sugercane) which is a post harvest byproduct of the sugar plantations in Thailand. Using the cane for papermaking diverts the cane from being burned or dumped. Bagasse has been used for centuries for paper production. The invitation card and envelopes are made from 100% post consumer recycled paper made in the USA. Husk colored. Ties closed with a length of 1/2 inch chocolate brown satin ribbon.
Star-fold wrapper of orange sugarcane and mulberry paper, with small inclusions of sugarcane fiber. Finished edges. Closes with a deep red ribbon.
Overall Size: 6-1/2"x 6-1/2" (non-standard mailing envelope. Requires extra postage.)
Finished invitation measures 6-1/4" x 6-1/4"
Square Invitation Card: Husk colored recycled cardstock (100% post consumer). Handsome paper.
Outer envelope: Matching husk (70lb) square envelope with burgundy mulberry paper envelope liners (assembly required).
Printing
Desktop printer: Laser, Color Laser, Inkjet. (we supply MS Word templates) Or let us do it for you.
Commercial Printing: Offset, thermography, letterpress.
Included in Set
Invitation Card:Husk cardstock - 100% post consumer recycled paper. Handsome.
Wrapper:Star-fold mango paper with four deckled edges. We score fold-marks into the wrapper and die-cut the holes for the ribbon -- for easy assembly.
Envelope:Husk 70 lb square envelope - 100% post consumer recycled. Very handsome.
Ribbon:One yard of chocolate brown taffeta 5/8
Envelope Liner: Chocolate brown mulberry unryu treefree paper- cut to size.
Tools:Bone folder, glue sticks.
An extra 10% of the cardstock and envelopes are included for printing overage.
Microsoft Word templates if you plan to print these yourself.
Instructions with diagrams
Completed reference sample.

Email this page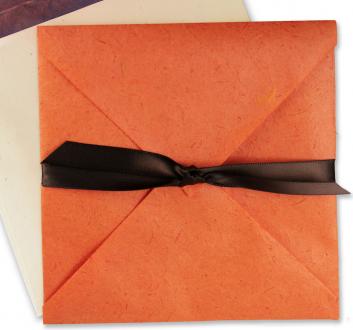 Click on thumbnails for additional views