Questions? Call Us! 626-864-0364
Cherie
French wired ribbon finishes this oh so chic Vintage Style Wedding Invitations. Layers of diecut invite sheet and mounting card tie together, the rsvp set fit neatly into the diecut ribbon slots. Orange mounting card, champagne invitation card with round corners. Generous size: Full invitation measures 8 inches x 5.5 inches wide. (A8 size).
Minimum order: 50
50+ $2.25 each
100+ $2.00 each
200+ $1.75 each
500+ $1.50 each


Details
Wedding Invitation gets mounted onto a deicut vintage printer's ornament shaped backing card, with diecut slots that the ribbon threads through. RSVP and any other enclosures get stacked at the back, held by the ribbon. Very chic! DIY imprintable card. Very affordable, too. Generous A8 size, mailing envelope is 6 inches x 8 inches.
Overall Size: 6x8 inches.
Finished invitation measures 5.5 x 8 inches
Melon Orange pearlescent mounting card.
Invitation sheet is diecut with rounded corners, heavy champagne pearlescent cardstock
Mailing envleope: A8 champagne pearlescent Italian envelope
Outer envelope: A9 Outer champagne pearlescent envelope is available for extra charge, if you want to do a double envelope.
Colors: Melon Orange, Apricot ribbon, champagne card and envelopes
Printing
Desktop printer: Laser, Color Laser, Inkjet. (we supply MS Word templates) Or let us do it for you.
Commercial Printing: Offset, thermography, letterpress.
Included in Set
Invitation Card:Heavy Italian pearlescent cardstock (105 lbs). Diecut with rounded corners
Mounting Card:Pearlescent platinum translucent vellum
Bellyband Ribbon:French satin and mesh 1.5 inch apricot colored colored ribbon
Gluedots:Gluedots for mounting the layers.
Mailing Envelope:Matching champagne A8 70lb pearlescent envelope from matching Italian paper.
Diecuts:Both invite card and backing card are diecut in vintage design
Outer Envelope:Optional A9 large mailing envelope at extra charge. (Please call if you want this!)
Tools:Gluedots
Microsoft Word templates for printing if you pan to print these yourself.
An extra 10% of the cardstock and envelopes are included for printing overage.
Complete assembled sample
Printed instructions

Email this page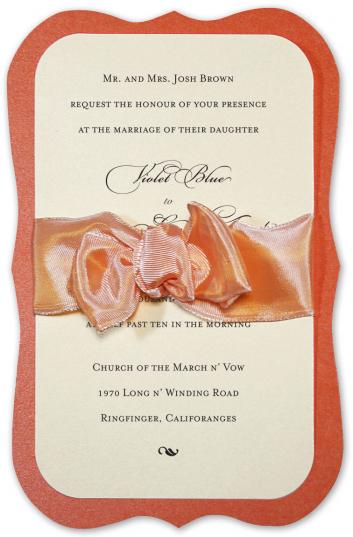 Click on thumbnails for additional views