Questions? Call Us! 626-864-0364
Coco
A Rustic Wedding Invitation for a Ranch, Garden or Green Wedding. DIY Square Invitation of chocolate-colored handmade lokta paper from Nepal.
Minimum order: 50
50+ $3.00 each
100+ $2.90 each
200+ $2.75 each
300+ $2.50 each
500+ $2.25 each


Details
Elegant chocolate-brown booklet of beautiful handmade lokta paper. Bound with waxed linen thread. Very natural yet sophisticated. Invitation is book style - with two facing pages (like a book). Cover has an inside pocket for enclosures. Closes with a sprig of real Edelweiss (leontopodium alpinum). Booklet is entirely treefree. 100% post consumer recycled paper envelope. Colors are natural light tan and rich chocolate brown. Lokta paper is made by hand in the streams of the Himalayan Mts of Nepal from the lokta bush, a renewable source. Envelopes are made from 100% postconsumer recycled paper, made in the USA, or Canada.
Overall Size: 6-1/2" x 6-1/2" (non-standard mailing envelope. Requires extra postage.)
Finished invitation measures 6-1/8" x 6-1/8"
Invitation Sheet: Natural lokta printing sheet. Prints inkjet or laser beautifully.
Outer envelope: Handsome and substantial Milkweed opaque recycled paper. (70 lb)
Printing
Desktop printer: Laser, Color Laser, Inkjet. (we supply MS Word templates) Or let us do it for you.
Commercial Printing: Offset, thermography, letterpress.
Included in Set
Invitation Wrapper:Chocolate brown handmade lokta paper. Scored.
Invitation Printing Sheet:Natural handmade lokta paper - prints inkjet and laser beautifully.
Pressed Flower:Edelweiss with stem.
Envelope:Natural 100% postconsumer recycled 70 lb square envelope.
Envelope Liner:Cream mulberry paper.
Tie:Natural wax linen thread.
Tools:gluesticks, wetglue and brush (for gluing flower); needle, and bone folder (for smoothing and folding)
Extra Paper:Templates in Microsoft Word.
10% extra printing sheets and envelopes for printing errors

Email this page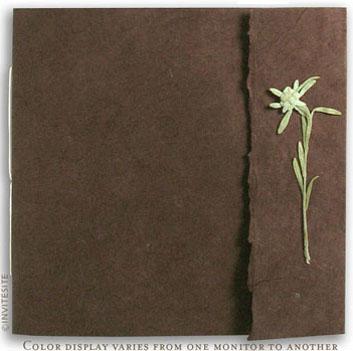 Click on thumbnails for additional views