Questions? Call Us! 626-864-0364
Coole
DISCONTINUED. A Romantic and Iridescent Wedding Invitation.
Minimum order: 50
50+ $3.00 each
100+ $2.90 each
200+ $2.75 each
300+ $2.50 each


Details
DIY Wrapped Invitation with sprig of pressed larkspur flowers. This design is a mix of pearlescent papers and matte papers. The invitation and envelope are pearlescent paper made in Italy. The gatefold wrapper is pearlescent vellum with a platinum finish. The invitation closes with a cream colored unryu tissue paper, to which you glue the sprig of real pressed larkspur flowers. Envelopes get blue tissue tamarind leaves liners. Really beautiful and romantic invitation. PAPER FACTS: Pearlescent papers are made in Italy, from FSC certified paper, made without metal or foils, is recyclable, biodegradable, elemental chlorine free. Unryu papers are treefree - make from mulberry paper made in Thailand.:
Overall Size: 5-1/4 x 7 1/4
Finished invitation measures 5 x 7 inches
Elegant gatefold of shiny platinum translucent vellum, wrapped in a sash of creamy light yellow mulberry unryu paper
Finished with a sprig of pressed deep royal blue larkspur flowers
Printing
Desktop printer: Laser, Color Laser, Inkjet. (we supply MS Word templates) Or let us do it for you.
Commercial Printing: Offset, thermography, letterpress.
Included in Set
Invitation Card: Beautiful Italian champagne cardstock with pearlescent finish
Mailing Envelope: Pearlescent champagne envelope - opaque with a luminous surface. Blue tamarind and mulberry tissue envelope liner
Gatefold Wrapper: Translucent English vellum gatefold wrapper with pearlescent finish
Bellyband: Cream colored mulberry paper bellyband
Pressed Flower: Sprig of real pressed deep blue larkspur flowers
Tools: Glue and brush for flowers, gluesticks for liners and bellyband
Extra Paper: MSword templates
10% extra printing sheets and envelopes for printing errors
Instructions
Assembled reference sample

Email this page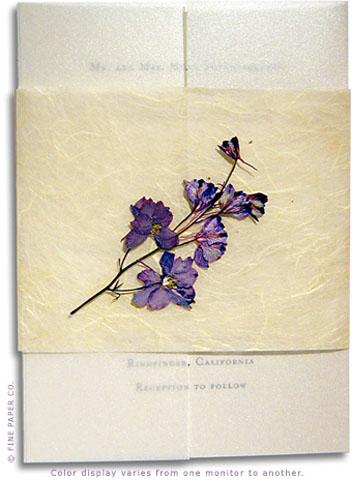 Click on thumbnails for additional views