Questions? Call Us! 626-864-0364
Cynthia
*** COMPLETELY SOLD OUT!!!*** Thank you!! We loved this design. Eco Gatefold Invitation made from lustrous silk handmade paper + blue recycled papers. Tall + Sophisticated. Handmade paper wrapper and blue invitation card and envelopes. Closes with natural paper raffia and real skeleton leaf. Treefree and recycled papers.
Minimum order: 50
50+ $3.00 each
100+ $2.90 each
150+ $2.80 each
200+ $2.65 each
300+ $2.50 each
400+ $2.45 each
500+ $2.40 each


Details
Handmade cotton rag paper with silk thread wrapper. Paper is made in India. Wrapper is scored for easy folding, with die-cut slits at the sides, here in Pasadena, CA. Ribbon threads through the wrapper. Invitation card is printed on Rain (sea blue color) postconsumer recycled paper, made in USA.
Overall Size: 10x5 inches
Finished invitation measures 9-1/2 x 4-3/4 inches.
Mailing Envelope: Matching Rain 100% PCW( sea blue color) custom envelope. Substantial, opaque paper. 100% postconsumer recycled paper. Four inch flap at top, for an elegant finish.
Colors: Sea blue, ivory white, and natural two-tone beige.
Printing
Desktop printer: Laser, Color Laser, Inkjet. (we supply MS Word templates) Or let us do it for you.
Commercial Printing: Offset, thermography, letterpress.
Included in Set
Invitation Card: Rain (sea blue color) 100% PCS recycled paper.
Wrapper: Cotton and silk Indian handmade paper. Scored and die-cut.
Envelope:Custom shaped tall (sea blue color) 100% PCW recycled envelope with deep 4 inch flap.
Tie: Yard of paper raffia -- tie or wrap as you like.
Leaf: Real rubber leaf skeleton leaf, dyed sea blue.
Tools: MS Word templates.
Extra Paper: 10% extra printing sheets and envelopes for printing errors
Instructions

Email this page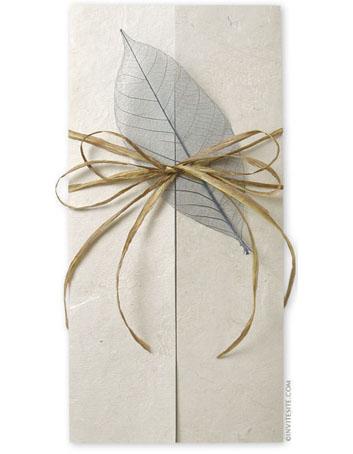 Click on thumbnails for additional views