Questions? Call Us! 626-864-0364
Daisies
Fresh and Modern Wedding Invitations great for Destination or Vacation Wedding. DIY Square Booklet Invitation with embossed handmade paper cover and inside pocket. 100% green and eco-friendly.
Minimum order: 50
50+ $3.00 each
100+ $2.90 each
150+ $2.80 each
200+ $2.65 each
300+ $2.50 each
400+ $2.45 each
500+ $2.40 each


Details
White and butternut yellow booklet of embossed and silk screened handmade paper in a daisy pattern. Closes with a fold over flap. Interior pocket for enclosures. Invitation is book style - with two facing pages (like a book). Rsvp set, map, or other enclosures fit neatly into a side pocket. Invitation made from treefree papers. (Mulberry papers, made in Thailand.) Bound with waxed linen thread (included). Extra Postage Required. (square envelope) Envelopes are 100% postconsumer recycled paper, made in USA.
Overall Size: 6 1/2 inches
Finished invitation measures 6-1/2" x 6-1/2" inches.
Invitation Sheet: White mulberry printing sheet. Prints inkjet or laser beautifully.
Outer Envelope: Milkweed envelope - 100% post consumer recycled 70 lb paper. Cream envelope liner (assembly required for liner).
Printing
Desktop printer: Laser, Color Laser, Inkjet. (we supply MS Word templates) Or let us do it for you.
Commercial Printing: Offset, thermography, letterpress.
Included in Set
Invitation Wrapper:Embossed handmade Thai mulberry paper. Scored.
invitation Printing Sheet:Mulberry unryu heavyweight - prints inkjet and laser beautifully.
Envelope:Natural 100% post consumer recycled 70 lb square envelope.
Envelope Liner:Cream mulberry paper.
Tie:Natural wax linen thread.
Tools:glue sticks, wet glue and brush (for gluing flower); needle, and bone folder (for smoothing and folding).
Templates in Microsoft Word if you are printing your own.
Instructions.
Assembled sample.

Email this page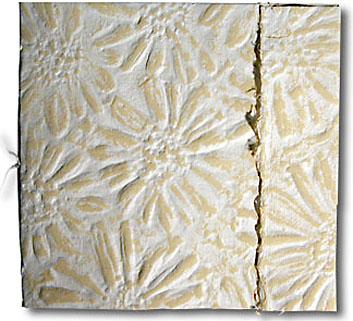 Click on thumbnails for additional views