Questions? Call Us! 626-864-0364
Dear Prudence
**DISCONTINUED DUE TO TOP LAYER PAPER NO LONGER BEING MADE** A romantic and economical wedding invitation for a Victorian or Green Wedding. DIY Multi-layered landscape invitation.
Minimum order: 50
50+ $2.50 each
100+ $2.25 each
150+ $2.25 each
200+ $2.00 each
300+ $1.75 each
400+ $1.75 each


Details
Romantic and natural multi-layer landscape-style invitation bound on one side with silver organza ribbon. Layers of coordinating mulberry papers fold around a simple card stock, creating an invitation that is ethereal -- yet sturdy in the hand. RSVP enclosures and map neatly tuck inside. This invitation comes with complete instructions, but it does require more assembly skills than some of our other designs. Not difficult, but requires multiple steps. All recycled and tree free papers. Perfect for Green Weddings.
Overall Size: 5-1/2" x 7-1/2" (A7 standard mailing envelope size)
Finished invitation measures 5 x 7 inches
Printing
Desktop printer: Laser, Color Laser, Inkjet. (we supply MS Word templates) Or let us do it for you.
Commercial Printing: Offset, thermography, letterpress.
Included in Set
Printing Sheet: Smooth natural mulberry.
Binding Sheet: Heavy milkweed recycled card.
Top Sheet: Natural thai mulberry with flecks of silver.
Mailing Envelope: Milkweed recycled A7
Ribbon: Sheer silver ribbon
Tools: Holepunch, MSWord printing templates
Extra Paper: 10% extra printing sheets and envelopes for printing errors
Instructions

Email this page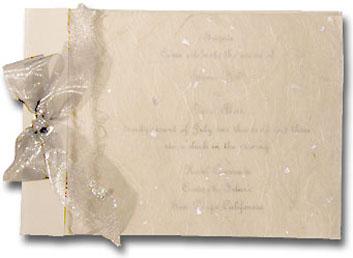 Click on thumbnails for additional views