Questions? Call Us! 626-864-0364
Felicity
Sophisticated, clean eco invitation for a modern green wedding.
Minimum order: 50
50+ $3.00 each
100+ $2.90 each
200+ $2.75 each
300+ $2.50 each


Details
DIY Mulberry Wallet style Invitation - closes with a silver skeleton leaf. Blue tamarind leaf mulberry paper invitation sheet. 100% post consumer recycled paper envelopes. PAPER FACTS: Mulberry papers are made from fibers gathered from mulberry bushes, a renewable source. Tamarind leaves are gathered from tamarind harvests. The envelopes are 100% post consumer recycled paper made in the USA or Canada. We score the wrappers here in Pasadena, CA.
Overall Size: 5-1/4"x 7-1/4"
Finished invitation measures 5"x7"
Folder of heavy mulberry with a natural deckled edge. Paper is a fibrous, matte finish
Closes with a real skeleton rubber leaf sprayed with a metallic finish
Printing
Desktop printer: Laser, Color Laser, Inkjet. (we supply MS Word templates) Or let us do it for you.
Commercial Printing: Offset, thermography, letterpress.
Included in Set
Invitation Card:Mulberry and blue tamarind leaves
Invitation Mounting Card:Milkweed cardstock (100% post consumer recycled)
Wrapper:Natural heavyweight mulberry with fibrous, matte finish and one deckled edge. Scored.
Leaf:Small silver skeleton rubber leaf
Envelope:Natural 100% post consumer recycled opaque A7 envelope
Envelope Liner:Blue tamarind leaf mulberry paper
Tools:Glue sticks
Instructions
Assembled sample

Email this page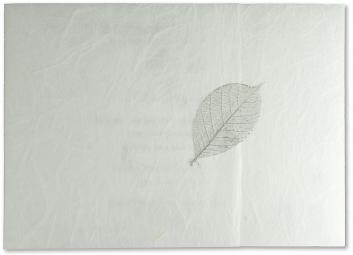 Click on thumbnails for additional views