Questions? Call Us! 626-864-0364
Festiva
Budget Friendly Eco Wedding Invitations. 100% cotton paper, with bright orange handmade paper bellyband, with fabulous embossed pattern. Wow your guests with this highly tactile, bold wedding invitation. Finished with gold ribbed ribbon that picks up the subtle gold tones of the orange belly band. DIY PRINTERS: PLEASE NOTE: This is a thick paper, 110 lb. It works with about half the desktop inkjet and laser printers out there. About 3/4 of our DIY printing customers have had no problem, but 1/4 have. We've priced this very reasonably, and many customers have had us print for them. QUICK PRINT CHAINS cannot print these for you. The paper can be printed offset or digitally. Digitally, only by a good color digital print shop. Not a photocopy place. QUESTIONS? Please call us: 626-864-0364
Minimum order: 100
100+ $1.25 each


Details
Substantial A8 size invitation. Invite Card is 100% cotton Crane Lettra paper, 105 lb. Beautiful texture, prints inkjet, laser, letterpress or offset. PAPER FACTS: Bellyband is made from recycled cotton rag, made by hand in India. Mailing envelope is softwhite 100% recycled paper with 50% PCW content. Made in USA.
Overall Size: A8: 5 1/2 x 8 inches
Finished invitation measures 5 1/4 x 7 3/4 inches
Bellyband measures 4 x 11 inches
RSVP set tucks neatly at the back
Mailing Envelope: Handsome softwhite 70 lbs paper envelope.
Colors
Printing
Desktop printer: Laser, Color Laser, Inkjet. (we supply MS Word templates) Or let us do it for you.
Commercial Printing: Offset, thermography, letterpress.
Included in Set
Invitation Card:Crane lettra 100% cotton letterpress cardstock
Bellyband:Handmade orange cotton rag paper embossed in a modern geometric pattern
Envelope:A8 size softwhite announcement flap
Gluedots:Box of gluedots for closing the bellyband
Ribbon:Half yard of gold shimmery satin edged ribbon
Extra paper: 10% extra printing sheets and envelopes for printing errors
Templates:Instructions
Assembled reference sample
MSWord printing templates for invites, rsvp set and mailing envelope

Email this page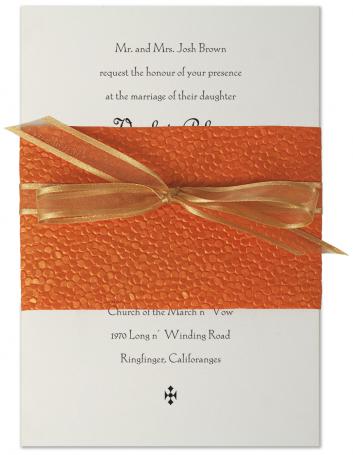 Click on thumbnails for additional views