Questions? Call Us! 626-864-0364
Innisfree
A strikingly lovely Invitation for a Green, Seaside or Garden Wedding party.
Minimum order: 50
50+ $3.00 each
100+ $2.90 each
150+ $2.80 each
200+ $2.65 each
300+ $2.50 each
400+ $2.45 each
500+ $2.40 each
600+ $2.25 each


Details
DIY Invitation with pressed sprig - tree free& post-consumer recycled papers. PAPER FACTS: Mulberry papers are made from fibers gathered from mulberry bushes, a renewable source. The envelopes are 100% post consumer recycled paper made in the USA or Canada. We score the wrappers here in Pasadena, CA.
Overall Size: 5x7 inches
Finished invitation measures 5 x 7 inches
Organic landscape invitation wrapped in a heavy mulberry paper wrapper with one deckled edge. Invitation is printed on matching mulberry card, mounted on recycled cardstock for extra weight. creating an invitation that is sturdy in the hand. RSVP enclosures and map neatly tuck inside. Closes with a beautiful sprig of Euphorbia marginata.
Envelope: Milkweed 100% post consumer 70 lb. A7 envelope (very handsome) with light green mulberry envelope liner (assembly required).
Colors: Complex soft white (ivory overtones) papers and spring greens.
Printing
Desktop printer: Laser, Color Laser, Inkjet. (we supply MS Word templates) Or let us do it for you.
Commercial Printing: Offset, thermography, letterpress.
Included in Set
Invitation Card:Natural heavy weight mulberry.
Invitation Mounting Card:Milkweed cardstock (100% post consumer recycled)
Wrapper:Natural heavyweight mulberry with one deckled edge.
Pressed Flower:sprig of Euphorbia marginata.
Envelope:Natural 100% post consumer recycled opaque A7 envelope.
Envelope Liner:Light green mulberry paper
Tools:glue sticks, wet glue and brush for flower
Extra DIY paper:Printing templates in MicroSoft Word if you plan to print these yourself.
Instructions.
Assembled sample.
10% extra printing sheets and envelopes for printing errors

Email this page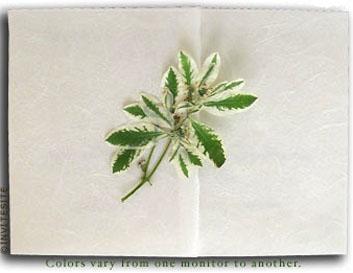 Click on thumbnails for additional views