Questions? Call Us! 626-864-0364
Key West Wedding Invitation
Current crinkle paper is a natural soft white - a bit darker than photo. An eco wedding invitation that suggests sparkling sands and dune grass. Booklet style invitation with crinkle soft white handmade paper and mica bits throughout. Print on cotton and silk paper, bind with natural paper raffia. Mails in 100% postconsumer recycled paper envelope.
Minimum order: 100
100+ $2.00 each
300+ $1.85 each
500+ $1.75 each


Details
Diecut and scored booklet (slightly rounded edges, scored for fold, and diecut holes for binding). !00% cotton rag. Invite sheet is natural handmade lokta paper from the mountains of Nepal. This paper prints beautifully. Square mailing envelope. (requires extra postage) PAPER FACTS: Invitation is made from all handmade paper. Cover paper is made from recycled cotton rag in India - with bits of real mica through out. Invitation sheet is 100% handmade lokta paper. Made from a sustainable and renewable bush. Envelope is 100% post consumer recycled paper.
Printing
Desktop printer: Laser, Color Laser, Inkjet. (we supply MS Word templates) Or let us do it for you.
Commercial Printing: Offset, thermography, letterpress.
Included in Set
wrapper:Decut and Scored cotton rag with mica. Measures 6 inch square
Invite Sheet:Lokta natural handmade paper: measures 5.5x11 inches. Folds 5.5 sq.
Ribbon:Natural Paper Raffia
Mailing Envelope:100% postconsumer recycled paper, heavy weight and handsome
Awl:binding tool
Gluestick:for tacking inside sheet to cover, for easy binding
Templates:MSWord printing templates
Instructions:Detailed instructions
Assembled sample:Fully assembled sample

Email this page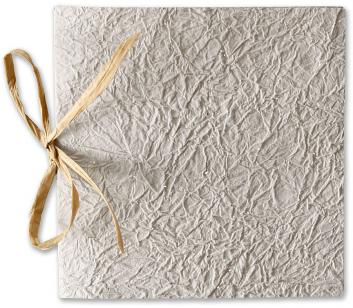 Click on thumbnails for additional views