Questions? Call Us! 626-864-0364
Lady Gregory
***DISCONTINUED **** An Exquisite Wedding Invitation for a Formal Garden Wedding.
Minimum order: 50
50+ $3.00 each
100+ $2.90 each
150+ $2.80 each
200+ $2.65 each
300+ $2.50 each
400+ $2.45 each
500+ $2.40 each
600+ $2.25 each


Details
DIY Gatefold Invitation with Sprig of Larkspur and double envelopes.
Overall Size: 5-3/4 " x 8" (A8 standard mailing envelope size)
Finished invitation measures 5 x 7 inches"
Landscape gate-fold of pearlescent Japanese card stock. (scored to fold and close neatly) Tissue onlay of tamarind mulberry tissue. Closes with a sprig of royal-blue pressed larkspur (real) flowers. Matching pearlescent champagne inner envelope lined with tamarind mulberry paper (you glue in the liners) and pearlescent outer, mailing envelope.
Printing
Desktop printer: Laser, Color Laser, Inkjet. (we supply MS Word templates) Or let us do it for you.
Commercial Printing: Offset, thermography, letterpress.
Included in Set
Invitation Card:Heavy Italian pearlescent cardstock (105 lbs).
Wrapper:Pearlescent platinum translucent vellum
Bellyband Sash:Lavender mulberry unryu which glues at back.
Pressed Flower:Sprigs of real pressed larkspur flowers - blue-purple color.
Inner Envelope:Matching Lavender 70 lbs. pearlescent Italian paper.
Inner Envelope Liner:avender unryu liner (you glue in the liner)
Outer Envelope:white pearlescent A8 size (6x8) envelope.
Tools:Glue and brush (for flower), glue sticks
Microsoft Word templates if you plan to print these yourself.
An extra 10% of the cardstock and envelopes are included for printing overage.
Complete assembled sample
Printed instructions

Email this page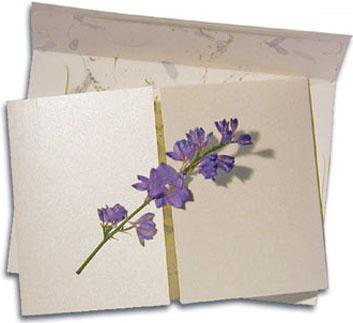 Click on thumbnails for additional views