Questions? Call Us! 626-864-0364
Lagi s Blaze
Wedding Invitation. A Dramatic Invitation for a Winter or Autumn Wedding or Rehearsal Dinner.
Minimum order: 50
50+ $3.00 each
100+ $2.75 each
200+ $2.50 each
300+ $2.25 each
500+ $2.00 each


Details
DIY Invitation with lined envelope. This design has been changed, due to the gold vellum being discontinued. We are now using an antique-gold paper that is pearlescent opaque.
Overall Size: 5-1/4" x 7-1/4" (A7 standard mailing envelope size)
Finished invitation measures 5 x 7 inches
Dramatic gatefold of shiny antique gold opaque Italian paper, wrapped in a sash of red mulberry paper with inclusions of real mango leaves. Finished with a tailored thin ribbon, edged in black
Outer envelope: Matching husk (70lb) square envelope with mango paper envelope liners (you glue in the liners).
Printing
Desktop printer: Laser, Color Laser, Inkjet. (we supply MS Word templates) Or let us do it for you.
Commercial Printing: Offset, thermography, letterpress.
Included in Set
Invitation Sheet:Husk cardstock - 100% post consumer recycled paper. Handsome.
Wrapper:Antique gold Italian pearlescent paper - 70lb
Bellyband:Red mango and mulberry paper - glues at back.
Envelope:Husk 70 lb square envelope - 100% post consumer recycled. Very handsome.
Envelope Liner:Matching mango mulberry - cut to size.
Ribbon:One yard of 3/8" ribbon with finished edges.
Tools:Glue sticks.
Extra DIY Paper:An extra 10% of the cardstock and envelopes are included for printing overage if you are printing these yourself.
Microsoft Word templates if you plan to print these yourself.
Instructions with diagrams
Completed reference sample.

Email this page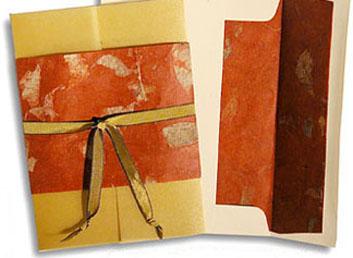 Click on thumbnails for additional views