Questions? Call Us! 626-864-0364
Lola
Wedding Invitation. A spirited and colorful tree free invitation for green weddings.
Minimum order: 50
50+ $3.00 each
100+ $2.75 each
200+ $2.50 each
300+ $2.25 each
500+ $2.00 each


Details
DIY Square Invitation of purple handmade lokta paper from Nepal. Tree free and post-consumer recycled papers. Booklet style, with side pocket. Bound wth length of lavender paper raffia. MORE PAPER FACTS: Lokta paper is made in Nepal, from the lokta bush, a renewable source. Envelopes are 100% postconsumer recycled paper made in the US, or in Canada.
Overall Size: 6-1/2" x 6-1/2" (non-standard mailing envelope. Requires extra postage.)
Finished invitation measures 6-1/8" x 6-1/8"
Elegant purple booklet of beautiful handmade lokta paper. Bound and tied with lengths of lavender paper raffia. Very natural yet sophisticated. Invitation is book style - with two facing pages (like a book). Cover has an inside pocket for enclosures. Invitation sheet is ivory mulberry paper. Booklet is entirely tree free 100% post consumer recycled paper envelope. Colors are purple, lavender, ivory and milkweed.
Invitation Sheet: Ivory Mulberry paper printing sheet. Prints inkjet or laser beautifully.
Mailing envelope: Milkweed opaque recycled paper with cream-colored mulberry liner. (you glue in the liner)
Printing
Desktop printer: Laser, Color Laser, Inkjet. (we supply MS Word templates) Or let us do it for you.
Commercial Printing: Offset, thermography, letterpress.
Included in Set
Invitation Sheet:White mulberry 70 gram sheet - measures 5-3/4 x 11 1/2 inches. Strands of real mulberry fiber embedded throughout paper. Prints laser or inkjet.
Wrapper:Handmade lokta paper with one natural deckled edge. We score fold-marks into the wrapper for easy assembly.
Envelope:Milkweed 70 lb square envelope - 100% post consumer recycled. Very handsome.
Envelope Liner:Lavender-colored Mulberry tissue - cut to size.
Binding Raffia:Two-tone lavender paper raffia.
Tools:Glue sticks, 1/8th inch hole punch for binding.
An extra 10% of the cardstock and envelopes are included for printing overage.
Microsoft Word templates if you are printing your own.
Instructions with diagrams
Completed reference sample.

Email this page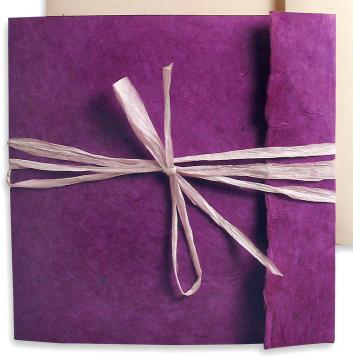 Click on thumbnails for additional views