Questions? Call Us! 626-864-0364
Luna
Ethereal and Romantic DIY wedding invitations. Ivory pearlescent handmade paper wrapper finished with natural skeleton leaf and pressed Edelweiss flower. Really beautiful -- like fairy wings.
Minimum order: 50
50+ $3.00 each
100+ $2.90 each
200+ $2.75 each
300+ $2.65 each


Details
Elegant invitation wrapped in an ivory-colored, textured, pearlescent handmade rag-paper wrapper. Crinkled texture with one natural deckled edge. Wrapper is scored for easy assembly and professional finish. Invitation card is a heavy champagne pearlescent Italian paper. Matching champagne pearlescent mailing envelope.
Overall Size: 5-1/4 x 7 1/4 A7 envelope size.
Finished invitation measures 5 x 7 inches
DIY Design: You glue both the leaf and the flower, glue and special brush included
Printing
Desktop printer: Laser, Color Laser, Inkjet. (we supply MS Word templates) Or let us do it for you.
Commercial Printing: Offset, thermography, letterpress.
Included in Set
Invitation:Heavy champagne Italian pearlescent cardstock (105 lbs).
Mailing envelope: Matching 70 lb A7 Italian champagne pearlescent envelope
Wrapper: Handmade cotton rag paper with textured and pearlescent finish. Diecut and scored for easy assembly. Natural deckled edge
Flowers/Leaf: Real skeleton rubber leaf and pressed Edelweiss flower
Tools: MSword printing templates (if you want to print)
Extra Paper: 10% extra printing sheets and envelopes for printing errors
tools: Instructions
Assembled reference sample
Glue sticks and wet glue/special brush

Email this page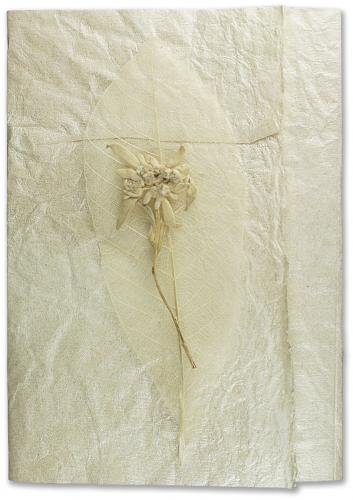 Click on thumbnails for additional views