Questions? Call Us! 626-864-0364
Miss Danvers Invitation Kit
***SOLD OUT***** LIMITED EDITION - when this design sells out, it is no longer available. **No free sample -- only paper swatches available. DIY Booklet Wedding Invitation made from metallic pink handmade cotton rag paper. Textured and incandescent. Booklet is diecut and scored, with a handsome pocket for rsvp set or enclosures. Bound with chocolate paper raffia. Booklet style invitation sheet - perfect for 2 language wedding invitations.
Minimum order: 100
100+ $1.50 each


Details
Modern landscape design --yet this is one of our budget designs. Beautiful handmade paper. Eco-friendly design. The paper is treefree but the booklet is coated with a metallic finish. PAPER FACTS: Handmade cotton rag booklet, silk and cotton rag invitation sheet. Both papers made in India from 100% recycled cotton rag. Envelopes made from 100% recycled paper: 30-50% postconsumer. Made in USA.
Overall Size:5x7 inches ( standard mailing envelope size)
Open invitation measures 14 x 5 inches. Printing sheet measures 4.5 x 13 inches.
Envelope: White recycled paper envelope.
Colors: Pink, white and maroon.
Printing
Desktop printer: Laser, Color Laser, Inkjet. (we supply MS Word templates) Or let us do it for you.
Commercial Printing: Offset, thermography, letterpress.
Included in Set
Invitation Sheet:White silk and cotton rag handmade paper. Prints laser or inkjet.
Wrapper:Handmade paper booklet - diecut and scored with pocket.
Envelope: Bright white recycled paper A7 standard size.
Tie:Half yard of maroon paper raffia.
Tools: MS Word templates. Awl and gluestick
Extra paper: 10% extra printing sheets and envelopes for printing errors
tools:instructions
Assembled reference sample
gluestick, awl

Email this page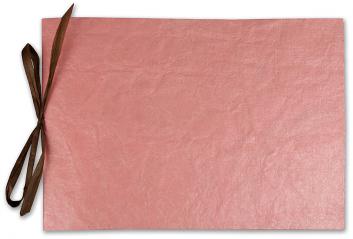 Click on thumbnails for additional views