Questions? Call Us! 626-864-0364
Muse
Vintage Inspired Letterpress Booklet with Original Art printed in purple ink on crisp white, thick cotton paper. Fabulous! Eco + Vintage + Unique + DIY. Crisp and fabulously polished. Booklet is diecut and scored, with a handsome pocket for rsvp set or enclosures. Two panel invitation sheet - perfect for 2 language wedding invitation.
Minimum order: 50
50+ $3.00 each
100+ $2.90 each
200+ $2.75 each
300+ $2.50 each
400+ $2.35 each


Details
Original pen drawn artwork by well know illustrator Diana Huff, is letterpress printed in purple ink, on Crane Lettra cardstock. The portfolio booklet is diecut and scored, with two small holes for binding. You print or we print on Crane 70 lb cotton rag paper, cut to exact size. Very clean in bright white and purple ink. Binds with waxed thread. (included)
Printing
Desktop printer: Laser, Color Laser, Inkjet. (we supply MS Word templates) Or let us do it for you.
Commercial Printing: Offset, thermography, letterpress.
Included in Set
Portfolio Booklet:Invitation Cover measures 4.5 x 13 inches long. Letterpress printed in purple vegetable oil based ink.
Invitation sheet:White text weight cotton paper, prints laser beautifully.
Envelope:Bright white cotton paper, A7 standard size, announcement flap.
Binding:Waxed linen thread
Templates: We provide MsWord templates if you are printing your own at home.
Tools: Awl, gluestick, bonefolder
Instruction:Instruction sheet
sample:assembled sample
Extra paper:If you print, 10% extra of printing sheets and envelope

Email this page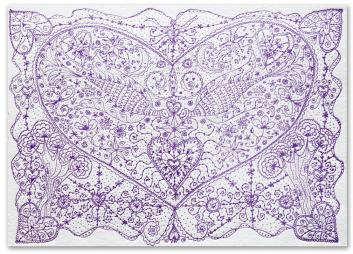 Click on thumbnails for additional views