Questions? Call Us! 626-864-0364
Poetica
**Please Note: If you found this page, we still have the invitation but have to rename it due to a programming glitch. We renamed it MUSE. Vintage Inspired Letterpress Booklet with Original Art printed in purple ink on crisp white, thick cotton paper. Fabulous! Eco + Vintage + Unique + DIY. Crisp and fabulously polished. Booklet is diecut and scored, with a handsome pocket for rsvp set or enclosures. Two panel invitation sheet - perfect for 2 language wedding invitation.
Minimum order: 50
50+ $3.00 each
100+ $2.75 each
200+ $2.65 each
300+ $2.50 each
400+ $2.35 each
500+ $2.25 each


Details
This spectacular DIY invitation opens to a modern landscape measuring 14 x 5 inches. The invitation sheet attaches to the portfolio with a short length of linen thread and a touch of gluestick. PAPER FACTS: Portfolio wrapper made from recycled 100% cotton paper, made in USA. Diecut and letterpress printed here in Pasadena. Inside invitation sheet made from 100% cotton paper. Envelopes are matching cotton paper, baronial (pointed) flaps.
Overall Size:5x7 inches ( standard mailing envelope size)
Open invitation measures 14 x 5 inches. Printing sheet measures 4.5 x 13 inches.
Envelope: Crisp white cotton with baronial flap. Crane envelopes
Colors: Crisp white, purple letterpress vegetable inks.
Made in USA: completely eco through and through.
Printing
Desktop printer: Laser, Color Laser, Inkjet. (we supply MS Word templates) Or let us do it for you.
Commercial Printing: Offset, thermography, letterpress.
Included in Set
Invitation Sheet:White text weight cotton paper, prints laser beautifully.
Wrapper:Crane cotton coverstock, letterpress printed, die cut and scored.
Envelope: Bright white cotton paper, A7 standard size, baronial (pointed) flap.
Tie:Bind with waxed linen thread. Holes die cut.
Tools: MS Word templates. Awl, bonefolder and gluestick
Extra paper: 10% extra printing sheets and envelopes for printing errors
instructions
Assembled reference sample

Email this page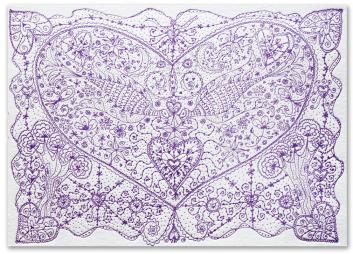 Click on thumbnails for additional views