Questions? Call Us! 626-864-0364
Safari Shine Wedding Invitation Kit
A Luminous Tree-Free and 100 % Post Consumer Recycled paper Wedding Invitation for a Sensual Green Wedding.
Minimum order: 50
50+ $3.00 each
100+ $2.85 each
200+ $2.75 each
300+ $2.50 each


Details
Tall and textured DIY Eco Invitation. Tree free & post-consumer recycled papers. Pearlescent cotton rag wrapper with copper paper raffia tie. Natural rubber skeleton leaf. Overall Size: 10 inches tall x 5 inches wide ( a standard stamp size) Finished invitation measures 9-1/2" x 4-3/4" Handmade cotton rag invitation wrapper with a complex crinkled texture. Wrapper is scored and diecut, for easy assembly. Invitation is printed on milkweed recycled cardstock. Closes with a muted copper raffia tie. Envelope:Matching milkweed 100% post consumer 70 lb. handsome envelope. Custom envelope - with a 4 inch flap at the top. (designed by and manufactured exclusively for Invitesite ). Colors: Champagne, natural milkweed, copper paper raffia. Invitation card is a complex soft white with yellowish overtones.
Printing
Desktop printer: Laser, Color Laser, Inkjet. (we supply MS Word templates) Or let us do it for you.
Commercial Printing: Offset, thermography, letterpress.
Included in Set
Invitation Card: Milkweed cardstock (100% post consumer recycled)
Wrapper: Handmade cotton rag. Scored and die-cut.
Envelope: Custom shaped 100% post consumer recycled opaque envelope
Tie: Two yards of-copper colored mulberry paper raffia.
Tools: MsWord templates
Extra Paper: 10% extra printing sheets and envelopes for printing errors
Decorative Leaf:Natural Rubber Skeleton Leaf
Instructions: Assembled reference sample
Instruction sheet

Email this page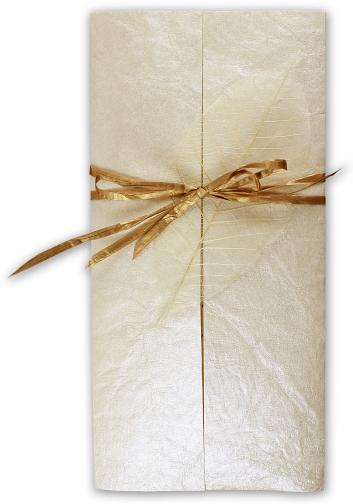 Click on thumbnails for additional views