Questions? Call Us! 626-864-0364
Scarlet
DISCONTINUED**** Red sugarcane paper is no longer made. Sorry! Goodbye Scarlet, we love you. Wedding Invitation. Dramatic and Artistic Wedding Invitation
Minimum order: 50
50+ $3.00 each
100+ $2.90 each
200+ $2.50 each
300+ $2.25 each


Details
DIY square gate-fold wedding invitation with a red sugarcane wrapper and soft white opaque envelope.
Overall Size: 6-1/2" x 6-1/2" (outer envelope size)
Finished invitation measures 6-1/4" x 6-1/4"
A dramatic and artistic wedding invitation. Gatefold wrapper of sugarcane and mulberry fibers. Includes real pressed flowers for mounting on invitation card.
Invitation Card: Heavy mulberry cardstock - which is mounted to a recycled cardstock for thickness and strength. Invitation printing area is 6-1/4" square.
Envelope: 6-1/2" x 6-1/2" square birch white 70 lb envelope with mulberry tissue liner. (assembly required) 100% post consumer recycled paper.
Printing
Desktop printer: Laser, Color Laser, Inkjet. (we supply MS Word templates) Or let us do it for you.
Commercial Printing: Offset, thermography, letterpress.

Email this page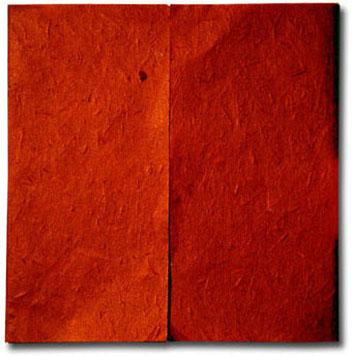 Click on thumbnails for additional views