Questions? Call Us! 626-864-0364
Seedling
Plantable Booklet Invitation made from tree free, handmade papers with real, plantable MIX of WILD FLOWER seeds. BEE-friendly, perfect for a Green Wedding. Wild flower seed mix includes: Black-eyed Susan, Sweet Alyssum, Spurred Snapdragon, Bird's Eye, Baby's Breath. Mix chosen to support Bee Colonies. Original custom artwork letterpress printed on cover. 100% rag cotton white envelopes. Seedling Wedding Invitations are a DIY kit, you can print or we can print but you assemble. Assembly: Fairly easy. The wrappers are diecut and scored.
Minimum order: 50
50+ $3.00 each
100+ $2.90 each
200+ $2.75 each
300+ $2.50 each


Details
DIY booklet invitation. Diecut pocket for rsvp set and enclosures. Diecut binding holes as scored for easy folding and assembly. PAPER FACTS: Portfolio wrapper made from recycled cotton rag handmade paper from India. Diecut and letterpress printed by us here in Los Angeles. Inside invitation sheet made from recycled cotton rag paper, made in USA. Envelopes made from 100% cotton paper, made in the U.S.
Overall Size: 7 1/4x 5 1/4
Finished invitation measures 5
Colors: Green, off white, natural paper raffia for binding
A charming booklet invitation that opens to a wide landscape of 14 inches.
Printing
Desktop printer: Laser, Color Laser, Inkjet. (we supply MS Word templates) Or let us do it for you.
Commercial Printing: Offset, thermography, letterpress.
Included in Set
Invitation sheet:Recycled 100% cotton rag paper
Booklet Cover:Die-cut and scored portfolio wrapper made handmade heavy weight paper embedded with real Wild Flower seeds. Letterpress printed original design.
Mailing Envelope:Cotton rag white A7 envelope.
gluestick:For gluing pocket.
awl:for binding.
Ribbon:Half yard of natural paper raffia per invitation.
Extra DIY papers:MS Word printing templates if you plan to print these yourself.
10% extra printing sheets and envelopes for printing errors
Instructions
Assembled reference sample

Email this page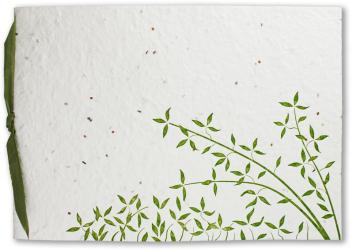 Click on thumbnails for additional views