Questions? Call Us! 626-864-0364
Storybook Sand
StoryBook : Sand Booklet Wedding Invitations. Charming + Chic, totally unique and novel, this booklet designed wedding invitation is ready for your story. The cover is made from stylish taupe colored Italian pearlescent paper. Sweet!
Minimum order: 50
50+ $3.00 each
100+ $2.90 each
200+ $2.75 each
300+ $2.65 each
500+ $2.50 each


Details
Diecut Taupe cover opens to 2 page diecut invitation sheet. Lots of room for story telling. This is a larger format, fits in an A8 matching champagne envelope. Both the cover and the interior sheet are diecut, with holes cut in both, for easy assembly. You mount your title label using vintage cut kraft photocorners. The rsvp set is mounted on the inside, back cover. You can completely customize this style with artwork on the covers and the invitation. Ready for your creativity! True DIY ease. DOUBLE ENVELOPE AVAILABLE : 50 CENTS EXTRA CHARGE.
Overall Size: 7 3/4 x 5 1/4 inches
Printable area of the booklet:
Cover of Booklet is diecut in Vintage shape, with holes for ribbon.
Invitation Sheet: Diecut and scored printable invitation sheet of champagne pearlescent 70 lb paper.
Mailing Envelope: A8 size (5 1/2 " x 8 1/4 " matching champagne pearlescent Italian envelope
Label and photocorners for mounting
colors: taupe, champagne, kraft tan, and ivory
rsvp set is mounted at the back cover with vintage style photocorners
Printing
Desktop printer: Laser, Color Laser, Inkjet. (we supply MS Word templates) Or let us do it for you.
Commercial Printing: Offset, thermography, letterpress.
Included in Set
Booklet Cover:Heavy tuape pearlescent Italian cardstock, diecut and scored.
Invitation Sheet:Diecut and scored pearlescent invitation sheet. Diecut holes line up with the cover diecut holes.
Label:1 3/4 inch x 3 inch champagne card (print 4 per sheet and cut)
Photocorners:Matte kraft colored vintage style. Adhesive backed for easy assembly
Ribbon:Ivory double sided satin ribbon
Mailing Envelope:A8 champagne pearlescent envelope with square flap. Italian paper.
Tools:Templates in Microsoft Word if you plan to print these yourself.
Assembled sample
Printed instructions
gluestick for tacking invite sheet to cover

Email this page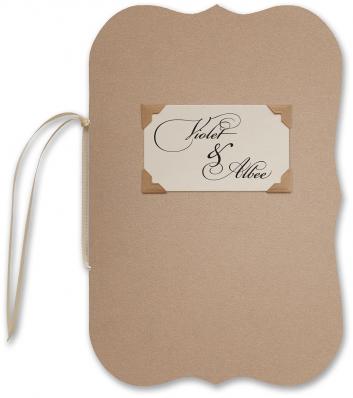 Click on thumbnails for additional views