Questions? Call Us! 626-864-0364
Vintage Love
Romantic Vintage Wedding Invitations letterpress printed in glorious red ink. This Do-it-yourself booklet has an original illustration letterpress printed on the front panel. Interior enclosure pocket. Letterpress printed in dark red ink on crisp white, thick cotton paper. Super clean and polished finish. Booklet is diecut and scored, with a handsome pocket for rsvp set or enclosures. Two panel invitation sheet - perfect for 2 language wedding invitation. Assembly is easy to medium. All cotton paper and envelope. An Eco Design with a Vintage Flair.
Minimum order: 50
50+ $3.00 each
100+ $2.90 each
200+ $2.75 each
300+ $2.65 each


Details
DIY invitation opens to a modern landscape measuring 14 x 5 inches. The invitation sheet attaches to the portfolio with a length of thin satin ribbon that you can tie in a knot or a bow. Also, simple binding thread is also available for a cleaner finish. Call us. PAPER FACTS: Portfolio wrapper made from recycled 100% cotton paper, made in USA. Diecut and letterpress printed here in Pasadena. Inside invitation sheet made from 100% cotton paper. Envelopes are matching cotton paper, baronial (pointed) flaps.
Overall Size:5x7 inches ( standard mailing envelope size)
Open invitation measures 14 x 5 inches. Printing sheet measures 4.5 x 13 inches.
Envelope: Crisp white cotton with baronial flap. Crane envelopes
Colors: Crisp white, deep red ink letterpress vegetable inks.
Made in USA: completely eco through and through.
Printing
Desktop printer: Laser, Color Laser, Inkjet. (we supply MS Word templates) Or let us do it for you.
Commercial Printing: Offset, thermography, letterpress.
Included in Set
Invitation Sheet:White text weight cotton paper, prints laser beautifully.
Wrapper:Crane cotton coverstock, letterpress printed, die cut and scored.
Envelope: Bright white cotton paper, A7 standard size, baronial (pointed) flap.
Tie:Bind with length of thin satin ivory ribbon. Binding thread also available for a clean looking finish.
Tools: MS Word templates. Awl, bonefolder and gluestick
Extra paper: 10% extra printing sheets and envelopes for printing errors
instructions
Assembled reference sample

Email this page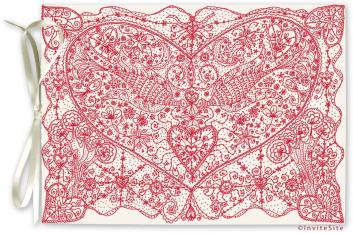 Click on thumbnails for additional views