Questions? Call Us! 626-864-0364
Virginia Woolf
A sophisticated portfolio invitation with double-sided ribbon
Minimum order: 50
50+ $2.75 each
100+ $2.50 each
200+ $2.25 each
300+ $2.00 each


Details
DIY portfolio invitation made from luxurious Italian pearlescent papers.
Overall Size: 8 1/16"x 5 1/2" (A8 outer envelope size) Double envelope
Finished invitation measures 5" x 7"
Colors: COPPER, champagne, and sage green.
A modern and sophisticated portfolio invitation that opens to a wide landscape of 16" x 5". Invitation card and rsvp set are mounted inside, using gold photo-corners.
Printing
Desktop printer: Laser, Color Laser, Inkjet. (we supply MS Word templates) Or let us do it for you.
Commercial Printing: Offset, thermography, letterpress.
Included in Set
Invitation Card:Champagne pearlescent Italian cardstock
Portfolio:Die-cut and scored portfolio wrapper made from copper-color pearlescent cardstock from Italy. Measures 16"x 5" open and folds to 5"x7".
Inner Envelope:Champagne A7 pearlescent envelope.
RSVP Set:Matching champagne pearlescent cardstock and pearlescent A2 envelope.
Photocorners:8 gold photocorners per invitation set.
Ribbon:One yard of double faced ribbon in brown and sage green per invitation.
Templates:MS Word printing templates if you plan to print these yourself.

Email this page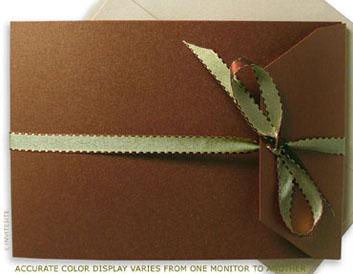 Click on thumbnails for additional views