Questions? Call Us! 626-864-0364
Vivid with Daffodil
DISCONTINUED**** Fun and Sassy Invitation: Casual and affordable but bright orange with the surprise of a real Daffodil.
Minimum order: 50
50+ $1.25 each


Details
DIY gatefold invitation with a bright orange vellum wrapper -- closes with a real pressed red and orange daffodil flower.
Overall Size: 5.125" x 7-1/2" (outer envelope size)
Finished invitation measures 5"x7"
A modern, colorful, and economical invitation. Wrapper of translucent orange vellum. Closes with a real pressed flower - a vivid orange and red daffodil.
Invitation Card: Britewhite recycled cardstock.
Outer envelope: Britewhite opaque envelope.
Printing
Desktop printer: Laser, Color Laser, Inkjet. (we supply MS Word templates) Or let us do it for you.
Commercial Printing: Offset, thermography, letterpress.
Included in Set
Invitation Card:Bright white 5x7 105 lb cardstock, 50% recycled

Email this page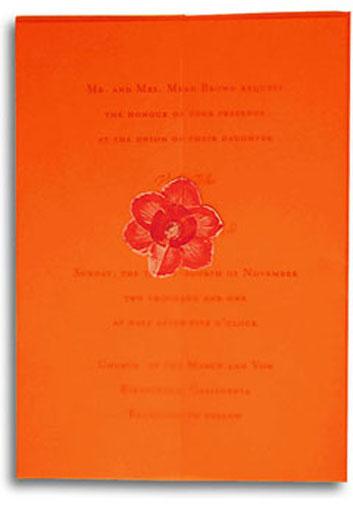 Click on thumbnails for additional views