Questions? Call Us! 626-864-0364
Wilcott
*****DISCONTINUED***** Subtle + Sophisticated Wedding Invitation for a Formal Wedding. The embossed pattern is in SILVER, not gold, as shown.
Minimum order: 50
50+ $3.25 each
100+ $3.15 each
200+ $3.00 each
300+ $2.90 each
500+ $2.75 each


Details
Tall + Sophisticated Gatefold Invitation made from lustrous silk-mesh paper with SILVER embossed pattern. Handmade paper wrapper and champagne pearlescent invitation card, rsvp card, and envelopes. Closes with sage green double-faced satin ribbon.
Overall Size: 10"x5" (standard mailing envelope size.)
Finished invitation measures 9-1/2 x 4-3/4 inches.
Translucent Spun mesh paper with raised SILVER dot pattern wrapper. Wrapper is scored for easy folding, with die-cut slits at the sides, Ribbon threads through the wrapper. Invitation card is printed on Italian pearlescent cardstock.
Enclosure cards and rsvp set tuck behind the invitation card, secured by the threaded ribbon.
Mailing Envelope: Pearlescent champagne custom envelope. Substantial, opaque paper. Four inch flap at top, for an elegant finish.
Printing
Desktop printer: Laser, Color Laser, Inkjet. (we supply MS Word templates) Or let us do it for you.
Commercial Printing: Offset, thermography, letterpress.
Included in Set
Invitation Card:Champagne pearlescent Italian cardstock
Wrapper:Spun mesh paper with gold dots in a relief pattern. Scored and die-cut.
Envelope:Custom shaped tall pearlescent envelope with deep 4 inch flap.
Tie:Yard of One and a half inch ribbon - tie in a bow or a french tie.
MS Word templates included if you are printing your own.

Email this page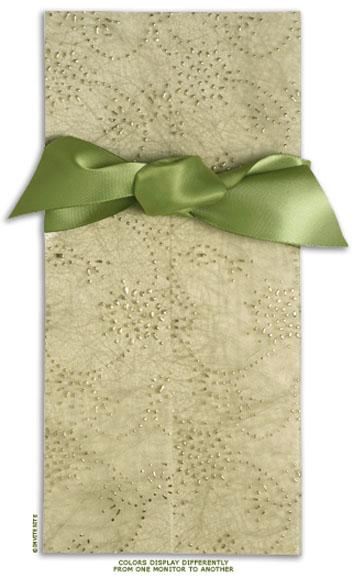 Click on thumbnails for additional views