Questions? Call Us! 626-864-0364
Winter Bouquet
***SOLD OUT FOR 2012***** DIY Heaven - professional finish with this do-it-yourself design. All handmade paper wedding invitation in a booklet style, with the deckled edge incorporated into the foldover flap. Ivory handmade paper with a momi-style metallic finish. Invitation sheet is cotton and silk handmade paper. Real Texas Bluebonnet flower mounts on foldover flap.
Minimum order: 50
50+ $3.00 each
100+ $2.75 each
200+ $2.50 each
300+ $2.25 each


Details
SOLD OUT FOR 2012!!! DIY Square Booklet Invitation with an inside pocket. Incandescent crinkle handmade paper cover. Double envelopes. Sprig of pressed Texas Bluebonnet wild flowers. Handmade paper booklet cover comes with folds scrored in. Pocket for rsvp set and enclosures. Italian champagne pearlescent inner envelope, 80 lb softwhite paper mailing envelope which helps protect the flower.
Overall Size: 7x7
Finished invitation measures 6.25 x 6.25 inches
Cool ivory-white booklet of incandescent handmade paper in a momi (crinkled) pattern. Closes with a fold over flap. Interior pocket for enclosures. Invitation is book style - with two facing pages (like a book). Rsvp set, map, or other enclosures fit neatly into a side pocket. Invitation made from tree free papers.
Invitation Sheet: Cotton and silk handmade paper printing sheet. Prints inkjet or laser beautifully.
Outer Envelope: Mailing envelope: 7 x7
Inner Envelope: Inner envelope: 6-1/2 champagne pearlescent Italian paper.
Colors: Champagne, ivory and blue/purple
Printing
Desktop printer: Laser, Color Laser, Inkjet. (we supply MS Word templates) Or let us do it for you.
Commercial Printing: Offset, thermography, letterpress.
Included in Set
Invitation Printing Sheet:handmade Indian cotton and silk paper.
Wrapper:Soft white Handmade cotton rag paper with pearlescent finish. Scored.
Pressed Flower:Texas Bluebonnet flower sprig with stem.
Inner Envelope:Italian pearlescent champagne colored 70 lb square envelope.
Outer Envelope:Soft white 7x7 envelope (double envelope protects the flower.)
Tie:Natural wax linen thread.
Tools:Glue sticks, wet glue and brush (for gluing flower), awl (for poking binding holes).
Templates in Microsoft Word if you plan to print these yourself.
Assembled sample.
Detailed instructions

Email this page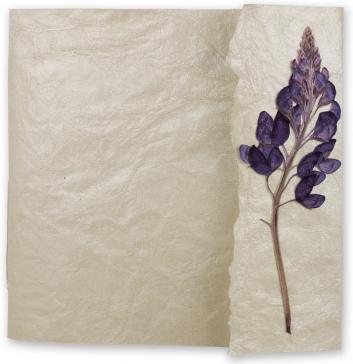 Click on thumbnails for additional views