Questions? Call Us! 626-864-0364
Woodland
Eco, Rustic and Modern for Fall Green Weddings. Khaki colored cotton rag letterpress printed booklet wedding invitation. Bits of silk fiber run through the handmade paper. Treefree and recycled. Booklet is diecut and scored, with a handsome pocket for rsvp set or enclosures. Perfect for 2 language wedding invitations, as the invitation sheet has two panels. This is a DIY invitation kit. We can print for you, or you can print laser or inkjet. PLEASE NOTE: Don't take this paper to a photocopy service type printer. All handmade papers, which print desktop perfectly, but can give commercial printers a hard time, if they don't have experience with handmade paper. The papers can also be letterpress printed.
Minimum order: 50
50+ $3.00 each
100+ $2.90 each
200+ $2.75 each
300+ $2.65 each
400+ $2.50 each


Details
Modern landscape design with subtle artwork letterpress printed in white ink. Mails flat in an A7 size envelope, so uses 42 cent stamp. (if you tie raffia in a knot and not a bow - no USPS extra 20 cent "bump" charge). Matching cotton and silk paper invitation sheet. Bound with silver colored paper raffia. PAPER FACTS: Portfolio wrapper made from recycled cotton rag and silk handmade paper from India. Diecut and letterpress printed here in Pasadena. Inside invitation sheet made from recycled cotton rag and silk handmade paper. Envelopes are 100% cotton made by Crane in the USA.
Overall Size:5x7 inches ( standard mailing envelope size)
Open invitation measures 14 x 5 inches. Printing sheet measures 4.5 x 13 inches.
Envelope: Ecru cotton envelope.
Colors: Khaki tan, silver and ecru.
Printing
Desktop printer: Laser, Color Laser, Inkjet. (we supply MS Word templates) Or let us do it for you.
Commercial Printing: Offset, thermography, letterpress.
Included in Set
Invitation Sheet:Khaki silk and cotton rag handmade paper. Prints laser or inkjet.
Invitation Wrapper:Handmade paper booklet - diecut and scored. Letterpress printed original artwork.
Envelope:Ecru 100% cotton A7 standard size.
Tie:Half yard of silver paper raffia.
Tools: MS Word templates. Awl and gluestick
Extra paper:10% extra printing sheets and envelopes for printing errors
instructions
Assembled reference sample

Email this page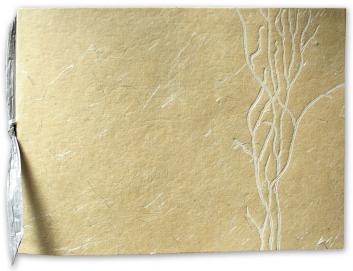 Click on thumbnails for additional views