Questions? Call Us! 626-864-0364
Zora
Taylored and Sophisticated DIY Wedding Invitation Kit. Linen beige mulberry paper with flocked willow leaf pattern embossed on to paper. Closes with a 1.5 inch plum eggplant crinkle ribbon.
Minimum order: 50
50+ $3.00 each
100+ $2.90 each
200+ $2.75 each
300+ $2.50 each


Details
DIY Elegant Invitation with an Ivory-Beige flocked mulberry wrapper and lush Plum ribbon.
Overall Size: 5.5x8 inches
Finished invitation measures 5-1/2x 7 3/4 inches
Elegant invitation wrapped in a textured, flocked ivory-beige colored mulberry-paper wrapper. Flocking in a willow-branch pattern. Wrapper is die-cut (ribbon slots) and scored for easy assembly and professional finish. Invitation card is printed on heavy champagne pearlescent Italian paper. Matching champagne pearlescent mailing envelope. Closes with a 1-1/2 inch Plum-colored, textured ribbon.
Envelope: Italian champagne colored, 70 lb. A8 envelope. Pearlescent finish (very elegant).
Printing
Desktop printer: Laser, Color Laser, Inkjet. (we supply MS Word templates) Or let us do it for you.
Commercial Printing: Offset, thermography, letterpress.
Included in Set
Invitation Card:Heavy Italian pearlescent cardstock (105 lbs).
Wrapper:Medium weight flocked mulberry paper with flocked willow-branch pattern. We die-cut slots for the ribbon and score fold-marks into the wrapper for easy assembly.
Envelope:Matching Italian opalescent 70 lbs. A8 size (5.5x8) envelope.
Ribbon:One and one half inch, textured ribbon. We allocate enough ribbon to tie a bow or a knot.
:An extra 10% of the cardstock and envelopes are included for printing overage.
Microsoft Word templates if you are printing your own.

Email this page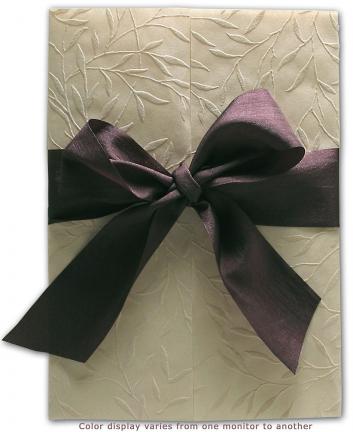 Click on thumbnails for additional views