Questions? Call Us! 626-864-0364
Glacia
Glamorous Portfolio Invitation in Silver and Cool White. Perfect for a two language invitation.
Minimum order: 50
50+ $2.75 each
100+ $2.50 each
200+ $2.25 each
300+ $2.00 each


Details
DIY portfolio wedding invitation made from shimmery Italian pearlescent papers. Long length of ivory double face stain, so you can wrap the ribbon around the invitation multiple times. EXTRA INVITE SHEET for two language invitation is 25 cents. You would then put the rsvp set at the back of the invitation, held by the binding ribbon. PAPER FACTS: Paper and envelopes are made from FSC certified paper, made without metal or foils, is recyclable, biodegradable, elemental chlorine free. These papers are made in Italy.
Overall Size: 8 1/16"x 5 1/2" (A8 outer envelope size) Double envelope
Finished invitation measures 5" x 7"
Colors: Shimmery silver and cool pearl white, with ties of ivory satin ribbon and photocorners.
Opens to a wide landscape of 16 inches.
Colors: Silver, pearl white and ivory.
Printing
Desktop printer: Laser, Color Laser, Inkjet. (we supply MS Word templates) Or let us do it for you.
Commercial Printing: Offset, thermography, letterpress.
Included in Set
Invitation Card:Pearl white pearlescent Italian cardstock
Portfolio:Die-cut and scored portfolio wrapper made from rich silver pearlescent cardstock from Italy. Measures 16
Mailing Envelope:Matching pearl white A7 pearlescent envelope.
DIY Extra paper: 10% extra printing sheets and envelopes for printing errors
Ribbon:Three yards of n1/8th inch double face satin ribbon
Photocorners:8 silver photocorners per invitation set.
DIY printing:MSWord templates
Instructions
Assembled reference sample

Email this page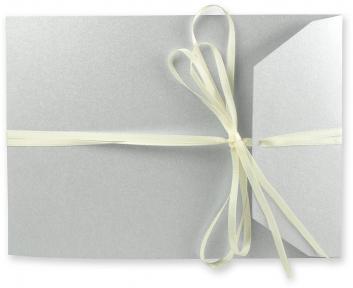 Click on thumbnails for additional views